Personnel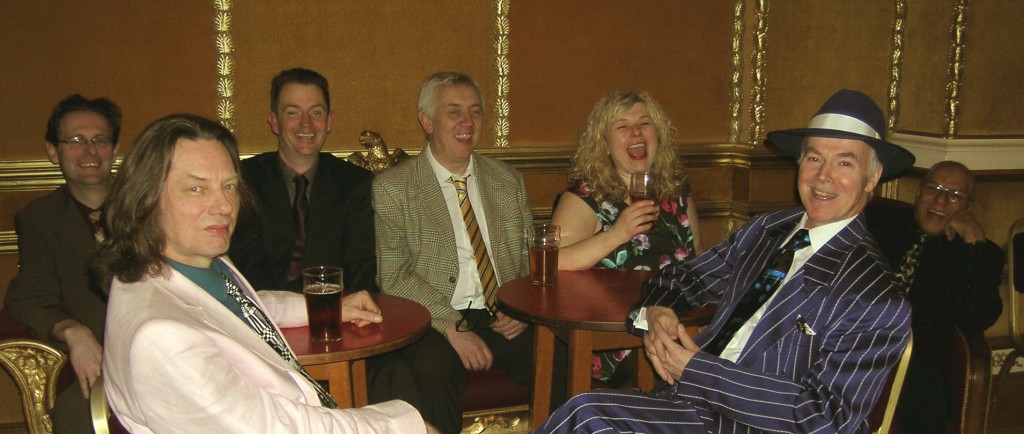 KIT PACKHAM: (Lead vocal & saxophones)
Besides running One Jump Ahead, Kit has also played with Frankie Ford, Screaming Lord Sutch, Ray Davies, Otis Grand, the Giants of Jive, Barb Jungr, Wolfie Witcher, The Guvnors, Dr JJ's blues Band, Doc Cox (aka Ivor Biggun), Wee Willie Harris, Heinz, Billie Davies and Johnny Legend amongst many others. As a composer, singer, bandleader, occasional music journalist,
MU activist and webmaster he "wears a number of different hats"  –  which conveniently hide his balding pate!
STEVE KNIGHT: (Guitar, harmonica, vocals, occasional tenor sax)
Steve's many-faceted talents have been previously harnessed by the Jazz Dynamos, Seymour's Jump, Soul Commotion, Tracy Young, The Big Easy, Jeepers Creepers, the Jazzomaniacs and Gabriel Keen. Although he normally eschews showbiz parties he was once persuaded to sing Mustang Sally with Jeremy Irons. On another occasion he shared a dressing room with Danny La Rue and Britt Ekland (but never did work out which was which). Years ago he used to go hang gliding but since the abolition of the death penalty, there's been no demand for airborne executions! Steve currently has difficulty travelling to many of our bookings and so is currently "job-sharing" with John O'Reilly (see below).
JOHN O'REILLY: (Guitar, vocals)
John has been described as a cross between Rory Gallagher and George Thoroughgood. His blues style incorporates elements of Texas and Chicago blues but also includes Jazz and Latin rhythms. In addition he plays rocking slide guitar reminiscent of the style of Johnny Winter. His own band, The Blues Engineers, have built an enviable reputation but in recent months John has also been performing quite frequently as a soloist and alongside Kit Packham in a duo format. He currently "job-shares" the guitarist role in One Jump Ahead with Steve Knight (see above).
KENRICK ROWE: (Drums, occasional vocals)
Kenrick's easy swing, technical expertise and quiet professionalism have made him one of the most sought after jazz drummers in the UK. He was seen in the "Jazz Britannia" series on BBC TV and before that on "Jazz 606" with Firepeople. Kenrick has only recently re-joined the band following a long sabbatical to undertake a major tour with PJ Harvey. A random trawl of his CV reveals Art Farmer, Courtney Pine, Jean Toussaint, Andy Sheppard and the Jazz Jamaica All Stars among his grateful employers.
NICK TOMALIN: (Piano, keyboards)
Nick is a graduate of Leeds College of Music and the Guildhall School of Music and Drama. He has performed at many prestigious venues including the 606 Club, the Jazz Café, the Vortex and Ronnie Scott's, with both his own band, and as sideman for Jim Mullen, Don Weller and Alan Barnes, and other leading jazz musicians. In 1998 he toured the UK as pianist/keyboardist with the Motown tribute musical "Dancing in the Streets" featuring Edwin Starr and Jackie Graham. Nick's show "Molly and the Owl", aimed at introducing younger children to jazz, took an Arts Council funded tour in 2005 which was a huge success. Nick is currently Education Manager for the e17 jazz collective. His website is at http://www.nicktomalin.co.uk/
TRACEY MENDHAM: (Saxophones, occasional vocals)
A thorough musical education took Tracey through the London College, the Royal Academy and the Guidhall School of Music. Her jazz skills were honed by Jimmy Hastings, Eddie Harvey, Bobby Wellins, Olaf Vas and Kathy Stobart. She has played alongside Harry "Sweets" Edison, Kenny Ball and Martin Shaw as well as in reggae, soul, salsa and orchestral outfits. Crazy For You was Tracey's West End theatre debut and she has also recorded with the Blues Brothers Band. She has recorded her own solo album but has yet to promote it in a big way. Her enjoyment onstage is apparent to all and she takes the Essex girl jokes with good grace!
ALEX KEEN: (Double bass)
Alex has backed many artists including Tony Coe, Jim Mullen, Henry Lowther, Alan Barnes, Jimmy Hastings, Pete King, John Etheridge and Eddi Reader and has toured the UK extensively with the Theo Travis Quartet and the Philip Clouts Quartet. While studying at the Guildhall he accompanied George Shearing in a piano masterclass for the South Bank Show. Alex also works with the Dick Pearce / Frances Knight Quartet, Viper's Dream, Julian Costello Quartet, Graham Pike Quartet, Sophie Smiles, The Fabulations and the Keen/Osgerby Trio, who have recently backed Anita Wardell, Trudy Kerr and Kai Hoffman.
SIMON DA SILVA: (Trumpet, flugelhorn)
Originally from the Midlands Youth Jazz Orchestra, Simon twice won awards in regional Musicians Union competitions before moving on to the world famous National Youth Jazz Orchestra. He has played with many of the country's leading jazz names including Digby Fairweather, Jean Toussaint, Kenny Wheeler, Jason Rebello, Pete King and John Dankworth. Trumpet is a notoriously difficult instrument to play. If you don't believe us – just listen to Simon!
WHO ELSE HAS PLAYED WITH ONE JUMP AHEAD?
Well, since you ask, our ex-members include …
Ken Austen, Olly Blanchflower, Brian Bull, Hilary Cameron, Glynn Evans, Paul Francis, Jon Goble, Pat Higgs, Billy Jenkins, Lindsey Lee, Richard Lee, Ike Leo, Tony McLarty, Dave Mayne, Rob Miller, Nigel Price, Bulman Reed, Tim Richards, Russell Roberts, Chris Rodel, Alan Savage, Barbara Snow, Mike Summerland, Kubryk Townsend, Julie Walkington ….
And the following have helped out (some still do!) on an ad hoc basis …
Dan Quinton, Frank Mead, Mark Lockheart, Julian Greaves, Mick Foster, Lee Badau, Jim Howard, Ned Bennett, Karen Sharp, Jo Fooks, Gemma Moore, Jerry Underwood, Dave Priseman, Mark Seymour, Raoul D'Olivera, Gabriel Garrick, Steve Dawson, Steve Jones, Henry Armburg Jennings, Don Lang, Richard Busiakiewicz, Phil Mead, Dave Ramm, Roj Lewis, Dave Cash, Paul Eldridge, Nigel Fox, Richard Simmons, Neil Casey, James Cheetham, Mel Wright, Sam Kelly, Martin France, Mike Pickering, Barry Cook, Chris Welch, Paul Robinson, Steve Washington,  Gideon Marcus, Andy Trim, Brent Keefe, Jasper Morrissey, Derek Gayle, Richard Price, Pete Kershaw, Steve Kershaw, Tom Mark, Pete Ringrose, Keith Jenkins, Tonna Punn, Terry Pack, Zoltan Dekany, Dorian Lockett, Les Miller, Thad Kelly…..(apologies to anyone we missed out – let us know and we'll include you on the next update!)