One Foot In The Groove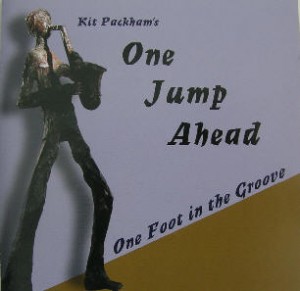 Track listing:
One Foot in the Groove
Hey Little Mama
Well You Didn't
Messing Around With the Blues
High Street Lament
Five Portions a Day
Change at Baker Street
Number 22
Not That Kind of Swinger
It's a Beautiful Day
Rainy Day Woman
This Old Dog
Ain't Nobody Here But Us Chickens
Reviews:
We don't always spot all our reviews. If you've seen one that isn't shown below please let us know! We'll try and obtain a copy to add to this page.
From BLUES IN BRITAIN…

Kit Packham's latest CD offers a fine selection of jump-jive tunes with some amusing and topical lyrics. Apart from a cover of Louis Jordan's "Ain't Nobody Here But Us Chickens" all the numbers come from within the band, Kit writing five, trumpeter Simon Da Silva and keyboardist Perry White two each, with sax player Tracey Mendham, guitarist Steve Knight and bassist Olly Blanchflower one each. Kit plays sax and sings most of the songs, with Tracey and Perry stepping up to the mike once each.

All the material here is relentlessly swinging and will appeal if horn-driven jump blues is your thing. Kit's lyrics are particularly fun: "Not That Kind of Swinger" explains how one can get confused between dance styles and other meanings and "Five Portions a Day" offers sound advice to lonely ladies on relationships (or is it healthy eating?). More seriously, Perry's "High Street Lament" bemoans the empty units and declining face of our shopping streets. Musically, the band is excellent, the horn charts in particular sounding absolutely authentic of the jazz and swing dancing era.

John Mitchell, Blues in Britain magazine, May 2013.
From THE MUSICIAN, journal of the Musicians' Union…

Fun-filled collection of originals and covers

With a repertoire of standards, 1940's jump/jive, R&B, soul and early rock'n'roll, this album swings in the classic Louis Jordan tradition. Saxophonist and vocalist Kit has chosen an equitable balance of originals (five of his own, seven by band members) plus the sign-off, Ain't Nobody Here But Us Chickens. Featuring Perry White (piano/organ/vocals), Olly Blanchflower (double bass), Kenrick Rowe (drums), Steve Knight (guitar/vocals), Simon Da Silva (trumpet/flugelhorn) and Tracey Mendham (saxes/vocals), the line-up tackles Stateside, Latin and homegrown with aplomb. Timeless.

Keith Ames, The Musician magazine, June 2013
From JUST JAZZ, the traditional jazz magazine…

Kit Packham's One Jump Ahead
One Foot in the Groove
Pelican Records: PEL CD 412
Recorded at Roundel Studios, Horton Kirby, Kent, 2012

Total playing time 49m 40s

One Foot in the Groove; Hey Little Mama; Well, You Didn't; Messing Around With the Blues; High Street Lament; Five Portions a Day; Change at Baker Street; Number 22; Not That Kind of Swinger; It's a Beautiful Day; Rainy Day Woman; This Old Dog; Ain't Nobody Here But Us Chickens.

Kit Packham (alto & tenor saxes, lead vocals), Perry White (piano, organ), Olly Blanchflower (bass), Kenrick Rowe (drums), Steve Knight (guitar), Simon Da Silva (trumpet), Tracey Mendham (tenor & baritone saxes, vocals).

Just like King Pleasure and the Biscuit Boys and Ray Gelato and the Giants, Kit Packham's One Jump Ahead have been around on the 'jump jive' scene for many a year. As you can imagine the years together have shaped the band into an enjoyable hard working unit. This latest CD is a slight deviation from the normal 'jump jive' fare in that the majority of tunes are self-penned by members of the group, although stylistically, still remains in the format. The tunes associated with London and the High Street are quite relevant to today's plight for shopkeepers. Five Portions a Day present in one's mind the amount of fruit we eat, but there is a certain sexual connotation to this song. It would make you chuckle!

An enjoyable CD, one that I like, but might not suit all readers of Just Jazz; however, we know many of our readers do have broader tastes. If that is the case, give this CD a hearing!

Pete Lay, Just Jazz magazine, June 2013